Due to increasing pollution, dealing with dirt and grime has become our routine. Having spare time to do cleaning jobs in your busy routine isn't easy.
Keeping your necessities under consideration, Sun Joe has introduced a marvelous SPX3500 pressure washer that has abilities to perform your 90 percent cleaning jobs within a few moments of your busy life. It owns all the features that are necessary to fulfill your needs.
Let's read the Sun Joe SPX3500 review summary to know briefly about it.
Summary of Sun Joe SPX3500 Review
In terms of function, the Sun Joe SPX3500 pressure washer is a versatile machine tackle with all kinds of cleaning jobs. With this pressure washer, you can clean your decks and mold on the siding, walkways, cars, trucks, boats and bikes, and other household things. Stubborn stains, dirt, grime, and mud will not matter for it when it comes to cleaning them.
In terms of features, you will be amazed to know that it has an exclusive TSS(Total Stop System) that shuts off the pump automatically when the trigger is not engaged. In this way, it saves energy and increases the pump's durability.
This pressure washer with a brushless induction motor provides a maximum of 2300 psi and 1.23 GPM to easily deal with the toughest cleaning jobs within a few moments. 
Moreover, compared to the other traditional pressure washers in the market, it works quieter and cooler, with pro-level performance due to its brushless induction motor. It comes with an onboard detergent tank with a storage capacity of 40 fluid ounces, which is enough for cleaning consistently.
It will be delighted for all buyers; it has a dial that allows you to set up the required quantity of soap according to your need. This way, it saves your money by saving the detergent from being wasted. Let's discuss its features to explore it more to know whether it suits you.
Sun Joe SPX3500 Brushless Induction Electric Pressure Washer
Brushless Induction Motor: The high-performance motor delivers powerful and efficient cleaning.
Brass Hose Connector: Features a durable, corrosion-resistant brass hose connector for long-lasting performance.
Total Stop System (TSS): The TSS automatically shuts off the pump when the trigger is released, extending the pump's life and saving energy.
Five Quick-Connect Nozzles: Easily switch between spray patterns for various cleaning tasks.
Onboard Hose Reel: The integrated hose reel ensures easy storage and prevents kinks and tangles in the high-pressure hose.
Features of Sun Joe SPX3500 Pressure Washer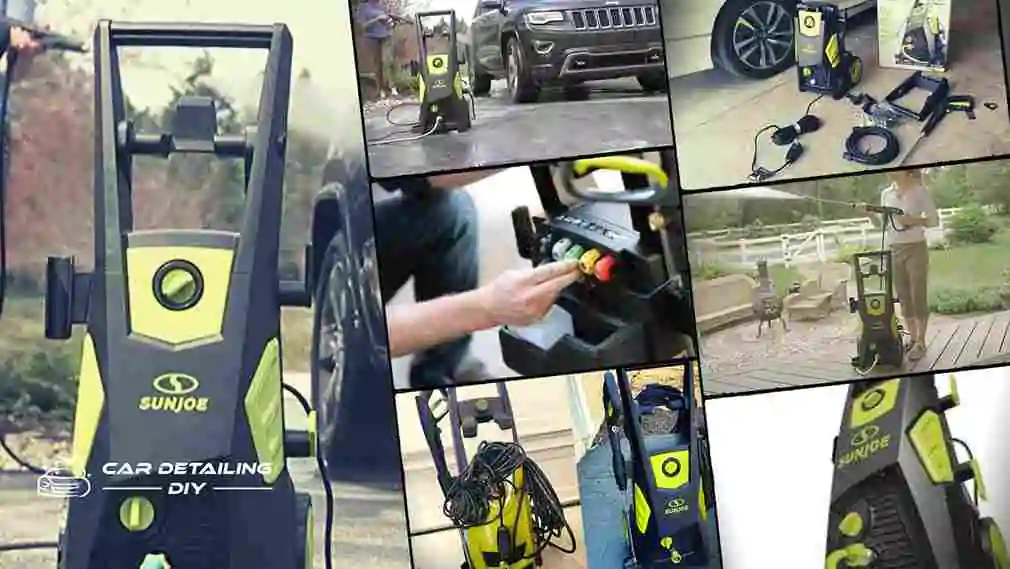 Sun Joe SPX3500 has marvelous features that bring it to the list of the top best pressure washers. Let's take an in-depth view of these features to know how it is superior to other pressure washers in performance.
Cleaning Ability
After passing the Sun Joe SPX3500 through a series of tests and deep analysis to check its performance, we found that it is the most suitable device to tackle the toughest cleaning jobs. It can remove tough grease, oil stains, mud and mildew, gunk, and grime. Compared to other pressure washers such as Ryobi and Dewalt in cleaning rating, the Sun Joe SPX3500 is 30% higher than them. It works amazingly within a few moments.
Quick Assembling
The thing you may love in Sun Joe SPX3500, you will take just 5 minutes to assemble it to start working. In this way, it saves your precious time and lets you quickly finish your cleaning task. Moreover, it is very easy to assemble for both beginners and professionals. You can get help from the Sun Joy expert team or read instructions on the guide in case of any problem.
Multi-Tasking Pressure Washer
We all know that we use different nozzles to get various spray patterns regarding the nature of cleaning jobs and objects. Unlike the other pressure washers that are compatible with one kind of nozzle, Sun Joe SPX3500 works with various nozzles such as (0º, 15º, 25º, 40º, and soap). You can use 25° and 40° nozzles by adjusting the pressure at 1500 PSI for car washing. Moreover, using these nozzles, you can wash your rugs, tiles, sidewalks, windows, and many other things.
Powerful
Sun Joe SPX3500 has a 13-amp brushless induction motor to cater to all the needs you demand from any pressure washer. Moreover, it works quietly and smoothly to ensure maximum relief for users.
Energy Saver
Sun Joe SPX3500 has the latest TSS (Total Stop System), which automatically shuts off the machine when the trigger is not engaged. In this way, it saves energy and increases reliability.
Portable
To ensure maximum ease for its users to work in different places, it has easy-glide wheels and a handle that allows it to move easily from one place to another. Moreover, it's easy to carry due to its lightweight.
Table of Specifications
| | |
| --- | --- |
| Brand | Sun Joe |
| Power source | Corded Electric |
| Maximum Pressure | 2300 PSI |
| GPM | 1.48 |
| Item Weight | 46.5 Pound |
| Hose Length | 20 feet |
| Product Dimensions | 16.7″L x 14.5″W x 36″H |
| Detergent tank Capacity | 1.2 L |
| Detergent Dial | Yes |
| Portable | Yes |
Benefits And Disbenefits
Pros
Ensures Pro-level performance 
Highly Durable 
Comes with a 2-year Warranty 
Provides 24/7 customer service
Compatible with various degree nozzles 
Reliable 
Quiet 
Provides Maximum 2300 PSI pressure 
Delivers 1.23 GPM
Operate Smoothly
Cons
Limited Warranty of 2 years 
Little bit pricy 
Conclusion
If you want to do your cleaning job quickly and quietly, we recommend Sun Joe SPX3500. This pressure washer is the best choice for doing multiple cleaning tasks. Moreover, its brushless induction motor makes it unique from other traditional pressure washers.
Our team has performed multiple experiments to check the validity of the company's claims about its features, but it always proves to be the best pressure washer in the market. Furthermore, most buyers on amazon have reviewed it positively due to its durability and pro-level performance.
FAQ's
Is Sun Joe SPX3500  a Good Pressure?
Yes, it is a good pressure washer due to its unique features. It features a large capacity detergent tank, easy-glide wheels, brushless induction motor, adjustable detergent dial, and  5 Quick-Connect spray nozzles.
Can you wash your car with a Sun Joe SPX3500 pressure washer?
Surely, you can wash your car easily with SPX3500 by using  25° and 40° nozzles. Moreover, you will have to adjust pressure up to 1500 psi to prevent the car from light scratches and other paint imperfections while cleaning it.
What is the power source for the Sun Joe SPX3500 Pressure Washer?
The Sun Joe SPX3500 is powered by electricity. It operates using a standard electrical outlet, ensuring consistent and reliable performance.
How does the Total Stop System (TSS) function on the SPX3500, and what are its benefits?
The TSS on the SPX3500 is an automatic safety feature. It shuts off the pump when the trigger is not engaged, reducing wear on the pump, conserving energy, and prolonging the pressure washer's lifespan.
Can I use specialized cleaning agents with the SPX3500, and how are they applied?
Yes, you can use a variety of cleaning solutions with the SPX3500. The pressure washer has a detergent tank, and you can apply the solution using the onboard detergent tank and the appropriate nozzle for thorough cleaning.
What is the purpose of the brass hose connector on the Sun Joe SPX3500, and why is it beneficial?
The brass hose connector is designed for durability and corrosion resistance. It ensures a secure and leak-free connection between the pressure washer and the hose, increasing the longevity and reliability of the pressure washer.